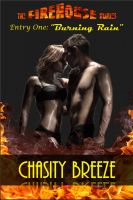 McKenna Phelps has taken her morning run on the same route for the last two years for one reason, Fire Station #12. Her closest friend, Chance Raeburn, is a firefighter there, but so is "he", Matthew "Burning Hot" Rain, the man McKenna lusted after and had wet dreams about every night. She's made a habit of stopping at the firehouse each morning Chance and his team were there for a bottle of water. One particular morning, the other six firemen had errands to run and she found herself all alone with Matthew and to her surprise, he had hungry eyes, all for her.
Matthew Rain had been watching McKenna for the past six months. She was always smiling and cheerful, a breath of fresh air and seeing her every morning before work began was a very good way to start the day. He'd flirt with her and throw her hints of his attraction to her, but all of the guys flirted with her, so he couldn't make her see that he truly wanted her. Then his luck changed and he was left to man the station while the rest of the team split up to run errands, and "she" was there, all alone with him. He had no choice but to make his move right then and there if he wanted to make her his.
Sparks flew and a fire started between them that left them both wanting more. But, assumptions sent McKenna running for the door and leaving Matthew burning with desire, confusion and pain. He'd been burned before, but with McKenna Phelps, it was a different kind of burn.
This steaming hot short story is the beginning of a long line of diary entries from both McKenna and other hotties in this ongoing series of "The Firehouse Diaries".
Adult-content rating: This book contains content considered unsuitable for young readers 17 and under, and which may be offensive to some readers of all ages.
Book Dame's Rating 4 Stars
This was a fun novella! Sizzling read that had me excited for more! Who hasn't dreamed of a hot fireman and a ride on a fire truck, maybe a little more!! Can't wait to get to know the rest of the boys!! I hope we get to keep up with McKenna and Matthew, and of course I'm wondering about her good friends Chance. This is a hot fun series, don't miss out!! I'm onto entry number 2, Maximum Heat Wave with Max and Serafina!!
Purchase it here!!
http://www.amazon.com/dp/B00BJOFNZI
https://www.smashwords.com/books/view/285567
http://www.barnesandnoble.com/w/the-firehouse-diaries-chasity-breeze/1114620790?ean=2940044316881
Links for Author Chasity Breeze:
https://www.facebook.com/chasitybreezeauthor?fref=ts
http://chasitybreeze.blogspot.com/2013/06/listen-up-my-lovelies-get-hot-for.html?zx=adcbce053b5e5224